What Can We Expect From Australian Property In 2021?
December 18 2020
"2020 proved to be very difficult for a lot of people around the world, and yet presented a lot of opportunity for some fortunate Australians. How will Australian property fair in 2021? Find out below!" - Ben Crow, Chief Operating Officer
Despite a global pandemic and the country's first recession in 30 years, Australia's housing market has withstood almost everything 2020 has thrown at it, making all those early forecasts of 10, 20 and even 30 per cent price drops seem embarrassingly off the mark.
Properlytics guides you through a complete property analysis.


Experts are now fairly confident that we've passed the bottom of this property cycle. After values fell 2.1 per cent between April and October, property research firm CoreLogic recorded an 0.8 per cent increase in November.

Tim Lawless, head of research at CoreLogic says that if this run of price growth continues, "we could see a recovery from the COVID downturn as early as January or February next year."

The major banks have also upgraded their forecasts. NAB now expects prices to increase by 5 per cent over 2021 and 6 per cent over 2022, while Westpac predicts double digit growth in the capital cities over the next two years.

So how exactly has the housing market remained so strong? We consider some of the biggest reasons below, and explore what the experts are saying we can expect from the world of property in 2021.
How has the property market survived?
Behind all those gloomy forecasts of plummeting prices was the fear that thousands of Australians would lose their jobs and wind up defaulting on their mortgages. While unemployment did go up, mortgage deferrals have helped keep distressed sales to a minimum.

The market has also been propped up by significant monetary policy support, with the Reserve Bank reducing the cash rate three times this year and launching a $100 billion bond purchasing program aimed at keeping borrowing costs low.

How has this helped? Lower interest rates tend to go hand in hand with rising property prices, as they allow borrowers to take out larger loans and bid higher on the homes they want to buy. While this effect has been somewhat subdued this year, it's a big reason why prices haven't nosedived as many expected.
Where will prices go from here?
According to property analysts SQM Research, low interest rates and aggressive government stimulus will provide a significant boost to Australia's major markets next year, with average prices in the capital cities expected to surge by 5 to 9 per cent.

Working from the assumption that government stimulus will remain in place and a COVID-19 vaccine is on its way, SQM expects Perth to be the strongest performing market (+8 to 12 per cent), followed by Sydney (+7 to 11 per cent), and Adelaide (+6 to 10 per cent).

Unsurprisingly, Melbourne will see the weakest growth among major cities, thanks to its extended lockdown, elevated unemployment, and an increase in interstate migration outflows. Nonetheless, property prices are still expected to go up by 2 to 6 per cent.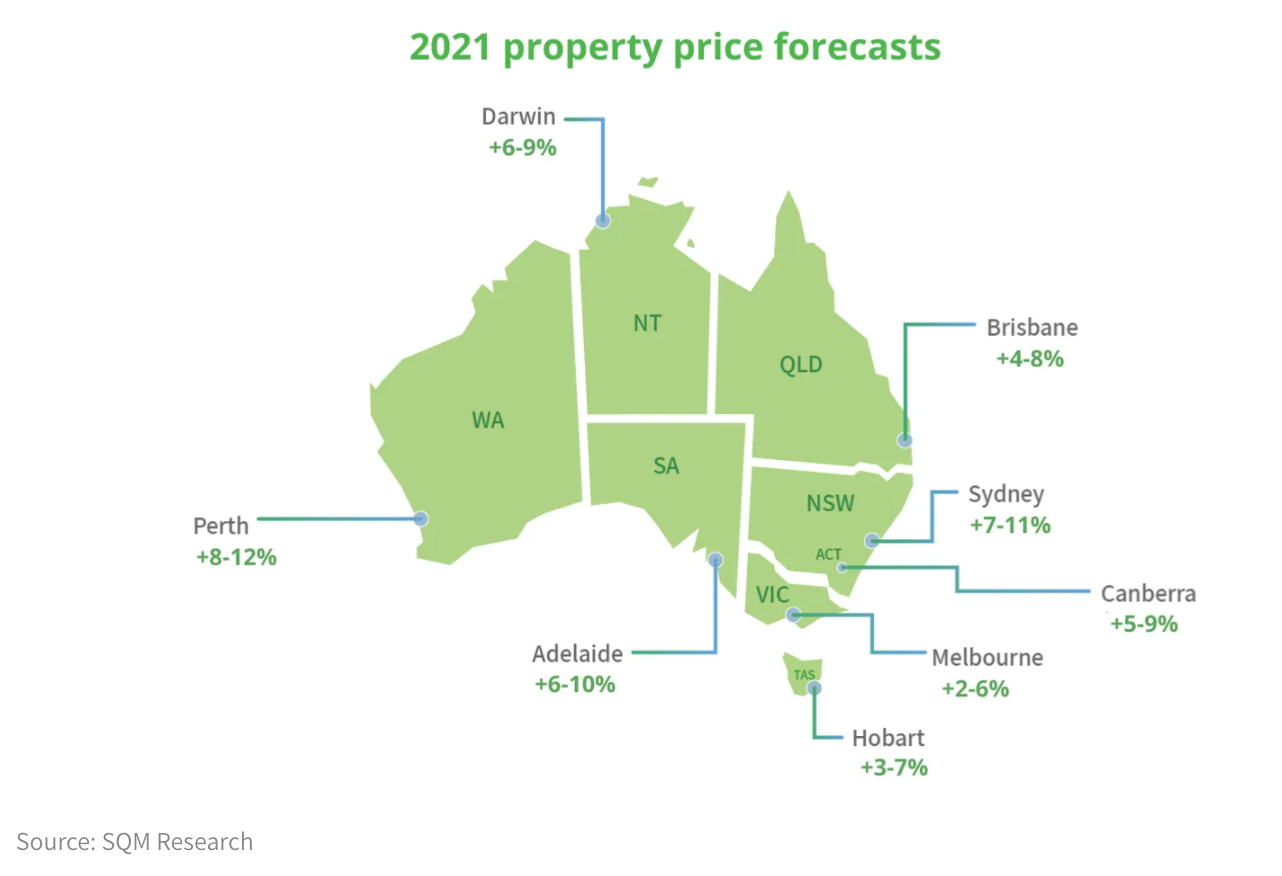 How are first home buyers responding?
Speaking at a recent parliamentary panel in Canberra, RBA Governor Philip Lowe said that current conditions bode well for young Australians, and that "it's actually a good time, if you're a first home buyer, to buy the property you've wanted."

Along with record low interest rates, more help is available through government programs like the First Home Loan Deposit Scheme and the First Home Owners Grant, which both subsidise the purchase or construction of new homes.

The HomeBuilder scheme has also proven popular enough to warrant an extension. Under the modified scheme, eligible owner-occupiers will be granted $15,000 when purchasing new builds valued at under $950,000 in New South Wales, $850,000 in Victoria, and $750,000 in all other States and Territories.

Encouraged by these measures, young Australians have been flocking to the market in droves. In September, the Australian Bureau of Statistics recorded 13,040 new owner occupier loans written for first home buyers, up from 8,961 from September last year.
Will weak population growth hamper prices?
Property prices may have picked up thanks to increased first home buyer demand, but we have to remember that international borders remain closed and the halt in population growth will likely weigh on the market for some time.

A federal government population statement released last week revealed that net migration is expected to be in the negatives this year and the next, and population growth is unlikely to return to its pre-COVID levels until 2027-28.

RBA boss Philip Lowe has said that this will have a moderating effect on property prices, particularly in major cities' apartment markets, "where vacancy rates are the highest in almost a decade and rents are falling at a rate we haven't seen before."

Already we're seeing a discrepancy emerge between apartments and standalone houses. According to CoreLogic, house values in capital cities rose 1.1 per cent in the three months to December, while apartment prices fell by 0.6 per cent.
How long will interest rates remain low?
The RBA has made it clear on several occasions that the cash rate won't increase until both inflation and employment are within its target range, and that's unlikely to occur for at least another three years.

That should come as good news to mortgage holders and anyone with sights on the property market. Right now, the average 2-year fixed rate among lenders we track sits at 2.35% p.a., while the average variable rate is a bit higher at 3.31% p.a.

With so much competition in the home loan space, many banks and lenders are looking beyond pricing to attract borrowers. Going into the new year, there's a good chance we'll see more lenders offering things like cashback deals and waivers on lenders mortgage insurance for first home buyers.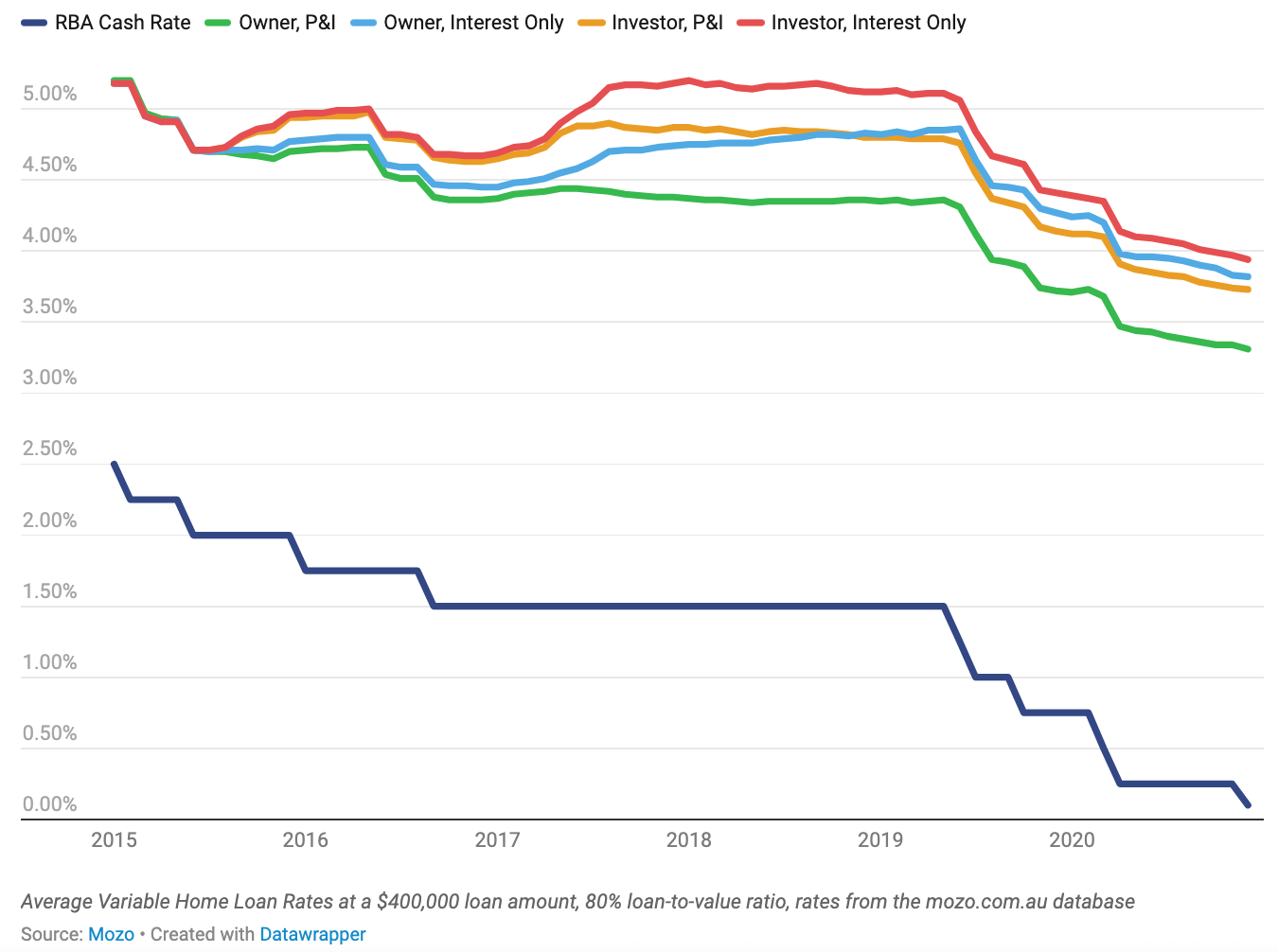 Will it get easier to get a home loan?
In September, the government announced it will be rolling back the responsible lending rules banks must adhere to when issuing home loans, in a bid to free up the flow of credit and quicken the pace of economic recovery.

Doing so will shift the burden of responsibility from lenders to borrowers, allowing banks to take credit applicants at their word when disclosing income and spending, rather than have to rely on lengthy verification processes.

At the time, Treasurer Josh Frydenberg said the red tape reduction will make applying for a loan much less cumbersome, not to mention "reduce barriers to switching between credit providers, encouraging consumers to seek out a better deal."

So is now a good time to purchase a home? As always, that depends on personal circumstances.
Property analysis with absolute precision.
Source: Mozo
Property forecast: What can we expect from the market in 2021?(2020, December 12). Mozo - The money saving zone - compare and save.https://mozo.com.au/home-loans/articles/property-forecast-what-can-we-expect-from-the-market-in-2021