Westpac Predicts 20% House Price Growth Over The Next 2 Years
March 11 2021
"Growth is further assisted by record low interest rates. This has made it possible for a greater section of the population to afford an investment property." - Ben Crow, Chief Operating Officer
Westpac is forecasting 20 per cent gains in the housing market over the next two years.
In a report released Monday, the banking institution's chief economist Bill Evans said he was expecting dwelling prices to rise 10 per cent nationally in 2021, and said the pace would continue into 2022, off the back of strong economic growth.
Predict cashflows for all your investment properties!
"The upturn is being supported by record low interest rates; the confident expectation among borrowers that these rates will remain low for years to come; ample credit supply; and an improving economic backdrop, as the roll-out of vaccines promises to bring the pandemic to an end and drives a sustained lift in confidence," Evans said.
"The bottom line is that Australia's housing upturn now has strong momentum that looks to be lifting further and will remain well supported by monetary conditions and an improving economic backdrop."
Dwelling approvals surged 22 per cent in the final quarter of 2020, and new lending for dwellings lifted by 16 per cent in the December quarter, which Evans says demonstrates a robust and confident housing market.
"Most tellingly, buyer demand has run well ahead of 'on market' supply, with sales outstripping new listings by 34 per cent over the last six months and 'stock on market' down to just 2.5 months of sales—[where] the long run average is 3.8," he said.
"A lift in new listings will no doubt be forthcoming but for now this is clearly a seller's market."
House prices forecast: Westpac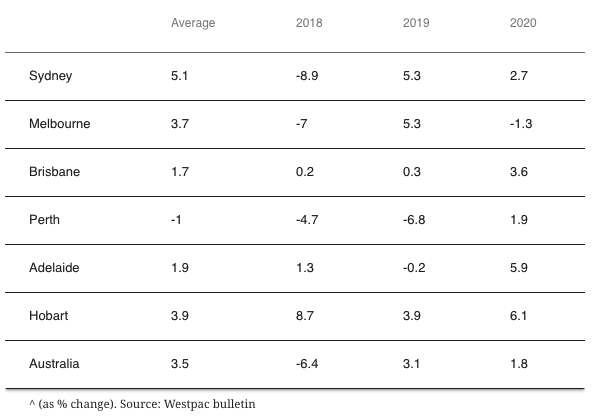 Unsurprisingly it was the smaller capital cities and regional towns that were most likely to capitalise on these forecast dwelling price increases.
There was still concerns about lingering areas of weakness, specifically the Sydney and Melbourne high rise markets, but according to the Westpac Housing Pulse report they look to be a minor drag on the broader market surge.
Evans said it was the regions that had been largely unaffected by virus disruptions and benefitted from related shifts in internal migration flows that would see the biggest boost in property prices.
Evans said they were also predicting good news for the labour market.
"Australia is expected to see growth well above trend this year and next. The unemployment rate is forecast to decline steadily to 6 per cent by end of 2021, and 5.3 per cent by end of 2022.
"We now expect the upswing to generate stronger, double-digit, price growth near term while our expectation, back in September last year, remains that a policy response can be expected later in 2022 which will settle markets into 2023."
Properlytics can handle all your property calculations.
Source: The Urban Developer
Paris, T. (2021, February 22). Westpac forecasts 20pc house price gains. The Urban Developer. https://theurbandeveloper.com/articles/westpac-forecasts-20pc-property-gains