No Major Declines in House Prices
May 14 2020
"No one can really predict with absolute precision what will happen to property in Australia, but the numbers for April show a relative steady house price index." - Ben Crow
The post-lockdown house price index for April has returned a less dramatic result than many expected, with capital city values rising 0.2 per cent over the month.
Despite significant falls in other property indicators like listings, clearance rates, sales and sentiment, Corelogic's house value index showed no evidence of a material decline in April.
The result was still the weakest month-on-month movement since June last year and half the 0.7 per cent rate of growth in March. Annual growth remained stable at 9.7 per cent.
The Melbourne property market returned the weakest result, falling into negative territory over the month at -0.3 per cent. Hobart was the only other market to post a decline.
Corelogic head of research Tim Lawless said the trend for positive growth started to weaken in mid-March as social distancing policies were implemented, placing considerable strain on consumer sentiment.
Home sales have been less resilient, recording a conspicuous 40 per cent decline in April to reach 29-year lows. The drop in property sales is most acute in Melbourne, with sales down 85 per cent over the past eight weeks while Sydney experienced a 79 per cent decline.
CBA economist Gareth Aird said that he expects price data to fall into line with other property market indicators in coming months.
"We suspect that there are some timing issues around the Corelogic data and actual price action," Aird said.
"Any lags should catch up in due course."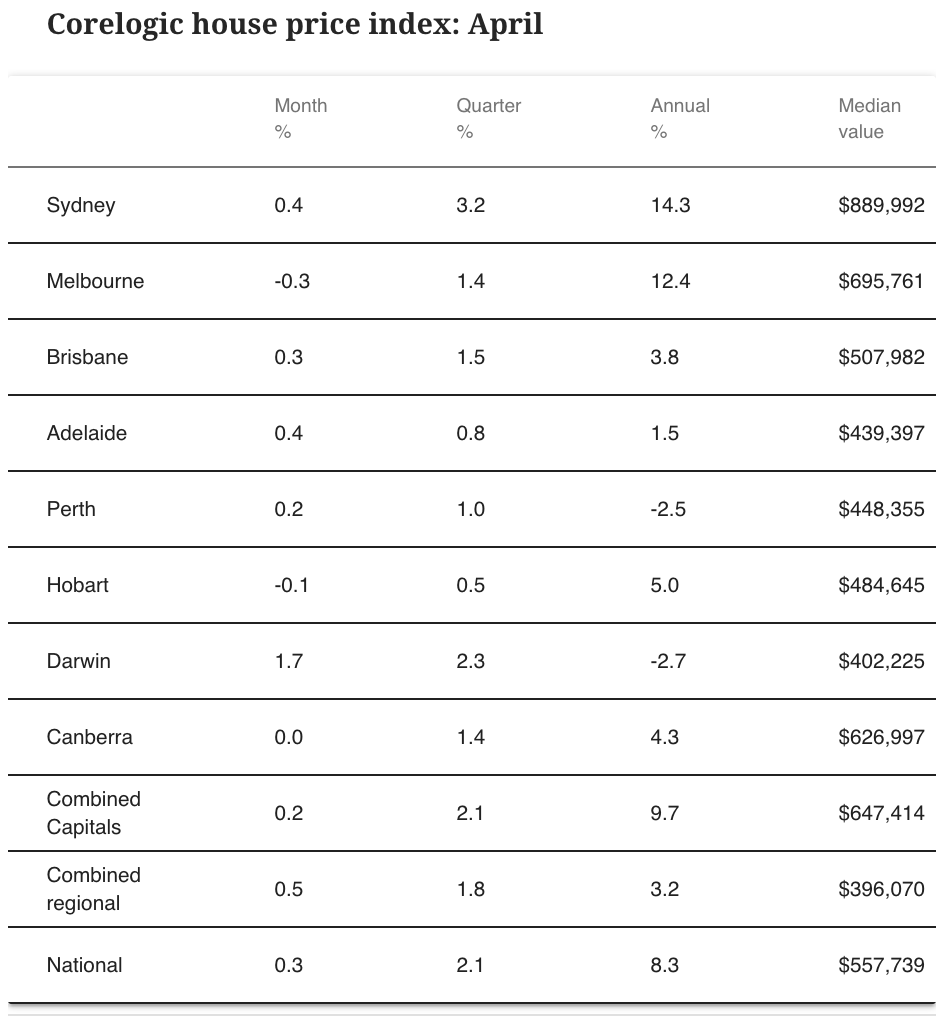 The Commonwealth Bank has forecast a 10 per cent decline in house prices over the next six months.
The headline-grabbing house price fall forecasts have ranged from the bearish 30-plus per cent, to the more favourable 5 to 10 per cent over the remainder of the year.
And with the prime minister flagging an exit from many restrictions within the next few weeks—"Australians deserve an early mark"—fund manager and economist Christopher Joye reckons that house prices will hold up, or even rise.
Joye said that an early exit from containment is very important for the housing market.
"House prices continued to rise in Sydney and Brisbane through April and there's no evidence yet of any housing catastrophe," Joye told Peter Switzer.
"I think the housing market will experience over the next six months a period of softness, I think house prices will likely flatline, or at worst fall by up to 5 per cent.
"Once we get through this air pocket over the next six to nine months I think the boom will continue and we will get another 10 to 20 per cent of capital gains to complete this cycle."
Source: https://theurbandeveloper.com/articles/house-prices-fall-corelogic-covid
Narvaez, A. (2020, May 1). No major declines in house prices, yet. Retrieved from https://theurbandeveloper.com/articles/house-prices-fall-corelogic-covid