New Properlytics Demo
March 13 2020
You asked, and we have listened!
The latest update to Properlytics is our new demo version, that has been built into our app. We wanted to give you an opportunity to run through all the features of the app with a completed report and familiarise yourself with the 9-step process.
To access the Properlytics demo, all you need to do is:
1. Download the new version from the Appstore or Google Play Store
2. Log in or Activate your account
3. At the payment screen, click the white button at the top of the screen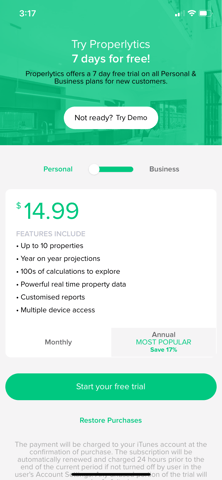 4. Click on the test Property and run through the process
After completing the demo you will be able to activate the 7 Day Free Trial.
We look forward to hearing your feedback about our new demo feature!