Metricon Homes named HIA's number one residential builder for fourth consecutive year
October 15 2019
Metricon Homes has been awarded the nation's number one builder by the Housing Industry Association (HIA).
They top the HIA-COLORBOND steel Housing 100 Report after making a total of 4,473 house starts across Victoria, Queensland, New South Wales and South Australia.
It was the fourth consecutive year the home building giant secured top spot.
Following in second and shooting up the list was Meriton, the nation's largest apartment builder, who jumped from ninth to second.
They started 3,288 dwellings. The ABN Group were third with 2,987 starts.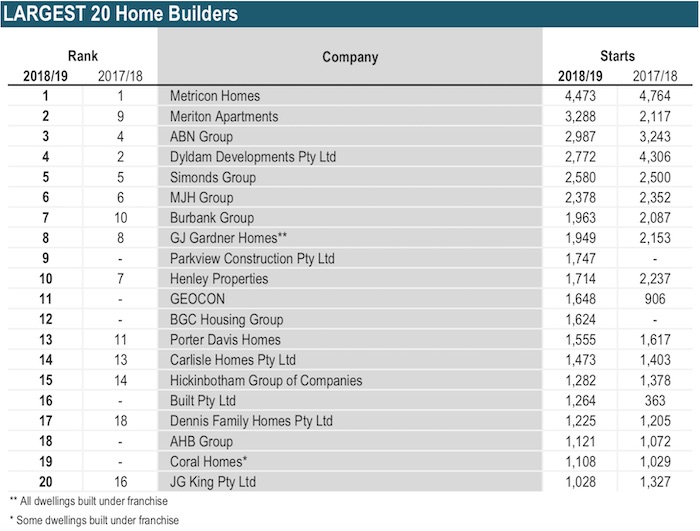 Overall dwelling construction has dropped by 15 per cent over the year.
The number of new homes constructed by the Housing 100 builders was smaller, falling six per cent.
The home building market was still strong in Melbourne despite a modest cooling for most of the year, while Sydney experienced a much stronger contraction in the number of new home starts.
There was a larger volume of new apartments commenced by the Housing 100 builders this year which is reflected in a growth in the number of apartment builders on the list.
Source: https://www.propertyobserver.com.au/forward-planning/investment-strategy/property-news-and-insights/104394-metricon-homes-named-hia-s-number-one-residential-builder-for-fourth-consecutive-year.html
Property Observer. (2019, September 25). Metricon Homes named HIA's number one residential builder for fourth consecutive year. Retrieved from https://www.propertyobserver.com.au/forward-planning/investment-strategy/property-news-and-insights/104394-metricon-homes-named-hia-s-number-one-residential-builder-for-fourth-consecutive-year.html