House Prices Rise In The Majority Of Capital Cities
November 05 2020
"The RBA has cut the cash rate in their latest announcement! Home loan rates are expected to drop, making acquiring investments more affordable." - Ben Crow, Chief Operating Officer
Australia's property market has ended five months of declines in October, with the national home value index increasing by 0.4 per cent.
Minimise the emotions of property investing by letting Properlytics handle all the calculations.
Adelaide and Darwin led the charge, both posting monthly increases of 1.2 per cent, while Hobart and Canberra posted increases of 1.0 per cent.
In fact, Melbourne was the only capital city to record a decline in values, down 0.2 per cent.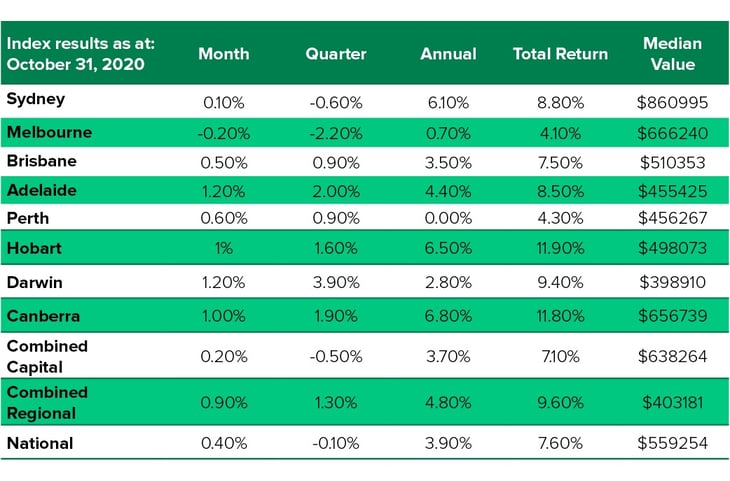 Sydney saw values increase 0.1 per cent, while Brisbane saw values grow 0.5 per cent. Perth recorded an increase of 0.6 per cent.
CoreLogic head of research Tim Lawless said the rise in capital city values was due to the 0.4 per cent increase in house values, as unit values fell 0.2 per cent at the same time.
These are signs that the unit and house markets will soon split further, he said.
"Through the Covid-19 period so far, unit values have actually shown a smaller decline in values than houses, but this is likely to change," Lawless said.
"Almost two thirds of Australian units are rented, and rental conditions have weakened, especially in the key inner city precincts of Melbourne and Sydney. These areas have a higher concentration of unit stock, and historic exposure to demand from overseas migration."
At the same time, lower levels of investment activity and higher supply of units in inner-city areas have coincided with international border closures to pose problems for the unit market.
"[These] are key factors that imply units will under-perform relative to houses over the medium term," he said.
Regional markets outperform
While the unit market faces headwinds, Australia's regional markets continue to grow as their lower price points and the availability of remote work grows.
Lawless said buyers are also lured by lower population densities and lifestyle factors.
CoreLogic's regional index only saw mild falls during the earlier months of the Covid-19 pandemic, with values now up 1.7 per cent over the last seven months.
Conversely, the combined capitals index has slid 2.3 per cent.
Sign a broad recovery is on its way
Sydney and Brisbane's recoveries were led by the most expensive quarter of the market; a sign that more price growth is ahead, Lawless said.
The upper-quartile of homes will often be the first to drop during a downturn and the first to recover, Lawless said. In Sydney, the most expensive quartile was up 0.3 per cent, compared to 0.2 per cent in the cheapest quartile.
Similarly, in Brisbane the most expensive section of the market was up 0.6 per cent, compared to 0.4 per cent across the lowest.
"While this is only one month of data, it has often been the case that premium housing markets lead both the downturn and the upswing, so it will be interesting to see if higher value properties gather further momentum over coming months," Lawless said.
The Reserve Bank of Australia is due to meet on Tuesday to discuss the official interest rate, amid reports the Bank will choose to take rates to another record low.
Lawless said these low rates are a key factor in boosting the property market, as they increase housing demand.
However, while the broader market is on the rise, Lawless said CoreLogic remains "cautious" about inner city high rise unit precincts, particularly those in Sydney and Melbourne.
He said supply levels remain high while falling rents and shrinking occupancy rates pose challenges for investors.
"Sellers in these areas looking for a quick sale could be facing significant pricing discounts until rental markets and supply additions stabilise."
Produce details cashflow reports and projections!
Source: https://au.finance.yahoo.com/news/australian-homes-increase-05-per-cent-in-value-232319733.html
Dean, L. (2020, November 1).Housing downturn ends: How your city performed. Yahoo Finance – stock market live, quotes, business & finance news.https://au.finance.yahoo.com/news/australian-homes-increase-05-per-cent-in-value-232319733.html