Dwelling Price Gains Predicted for 2020
November 06 2019
Australia's housing market is set to end the year with a 7% fall before rising by 5.4% in 2020, according to the latest CoreLogic-Moody's Analytics Australia Home Value Index Forecast.
It appears that the housing correction has already passed. After a two-year slump, home values started seeing signs of life around the September quarter, said Moody's Analytics Katrina Ell.
"The housing market improvement has been driven by some easing of credit standards, alongside the Reserve Bank of Australia (RBA) reducing the cash rate," she said.
The RBA has already adjusted the monetary policy three times this year, making back-to-back cuts in June and July and another easing earlier this month. These ultimately brought the cash rate to a historic low of 0.75%.
Market watchers are expecting the central bank to make another cut by early 2020.
"This could trigger a pickup in the Sydney and Melbourne housing markets that is more aggressive than forecast and out of comfort levels for policymakers," Ell said.
Sydney's house values are projected to rise by 7.7% by 2020, while unit values could clock a growth of 7.9%. Melbourne could witness similar gains at 7% for houses and 4.8% for units.
While the rate cuts might seem to be not doing enough for the broader economy, Ell said they remain crucial drivers in the housing market.
"The housing market is highly sensitive to movements in lending rates, and recent easing could fuel a more aggressive pickup in the property market, while the broader economy does not experience the same lift," Ell said.
Of all capital cities, only Perth is expected to witness a decline in both houses and units. After striking reductions of 7.8% and 8.6%, houses and apartments in the city are predicted to fall by another 0.7% and 0.8% next year.
While Hobart is slated to see a house price gain of 1% next year, it is also predicted to register a slight decline in unit values at 0.4%.
The table below summarises the house-price predictions by Moody's Analytics and CoreLogic: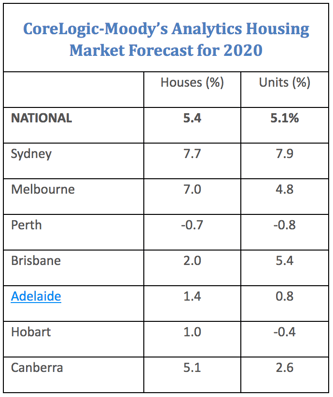 Source: https://www.yourinvestmentpropertymag.com.au/news/dwelling-price-gains-predicted-for-2020-267667.aspx
Tacadena, G. (2019, October 29). Dwelling price gains predicted for 2020. Retrieved from https://www.yourinvestmentpropertymag.com.au/news/dwelling-price-gains-predicted-for-2020-267667.aspx