Brisbane's House Price Growth Set To Stall But Not Fall, Experts Say
April 30 2020
"Our nation's leaders have quickly reacted with interest rate drops, mortgage freezes and new government stimulus packages to avoid forced sales that cause house prices to decline tremendously." - Ben Crow, Properlytics
A recent drop in Brisbane's new home listings could protect the city from a house price free-fall as low interest rates and government stimulus packages curb the rise of forced sales.
New data from Domain's latest House Price Report released on Thursday revealed property listings nose-dived by more than 20 per cent over the past few weeks as hundreds of cautious vendors pulled their homes from the market amid coronavirus restrictions.
The report revealed the number of house listings plunged 26 per cent this month in comparison to March last year in what was the most dramatic shift in the city's property sector.
But while the stock squeeze has left real estate agents scrambling to secure sales, industry experts say it could offer a glimmer of hope for the market by providing fundamental support for ongoing median house prices.
Domain senior research analyst Dr Nicola Powell said while hard economic times lay ahead, game-changing measures such as the six-month mortgage freeze would keep many desperate home owners from selling.
"When you get high levels of forced sales, that's when you see prices falling … so while it's going to take time for the economy to come back, we have huge amounts of stimulus in place," Dr Powell said.
The quarterly figures were more subdued, with Greater Brisbane up by only 0.6 per cent and Brisbane LGA actually down by 1.4 per cent. The quarterly Domain House Price Report revealed the Sunshine State capital had been tracking well – annually, house prices were up in Greater Brisbane by 2.1 per cent and by 3 per cent in the Brisbane local government area.
Unit prices took a 4.6 per cent hit from $392,009 in March last year, to $374,054 in March this year, making it the steepest annual price fall in two decades.
Dr Powell said while a slight increase in unit demand wasn't enough to curb long-running supply-and-demand discrepancies, the fact house prices across the city had enjoyed a much more stable rate of growth over the past year, reaching a record median high of $700,000 in December 2019 before dropping slightly to $670,000 last month, was encouraging.
"Transactions will slow in weeks and months ahead … but once we are out of this, there will be light at the end of the tunnel," Dr Powell said.
"But across south-east Queensland, the tourism areas will be hardest hit with borders closed and no tourism industry. It may end up impacting the sales market. I think it's landlords who could be a burden on the market there if they can't weather the storm and get that cash flow."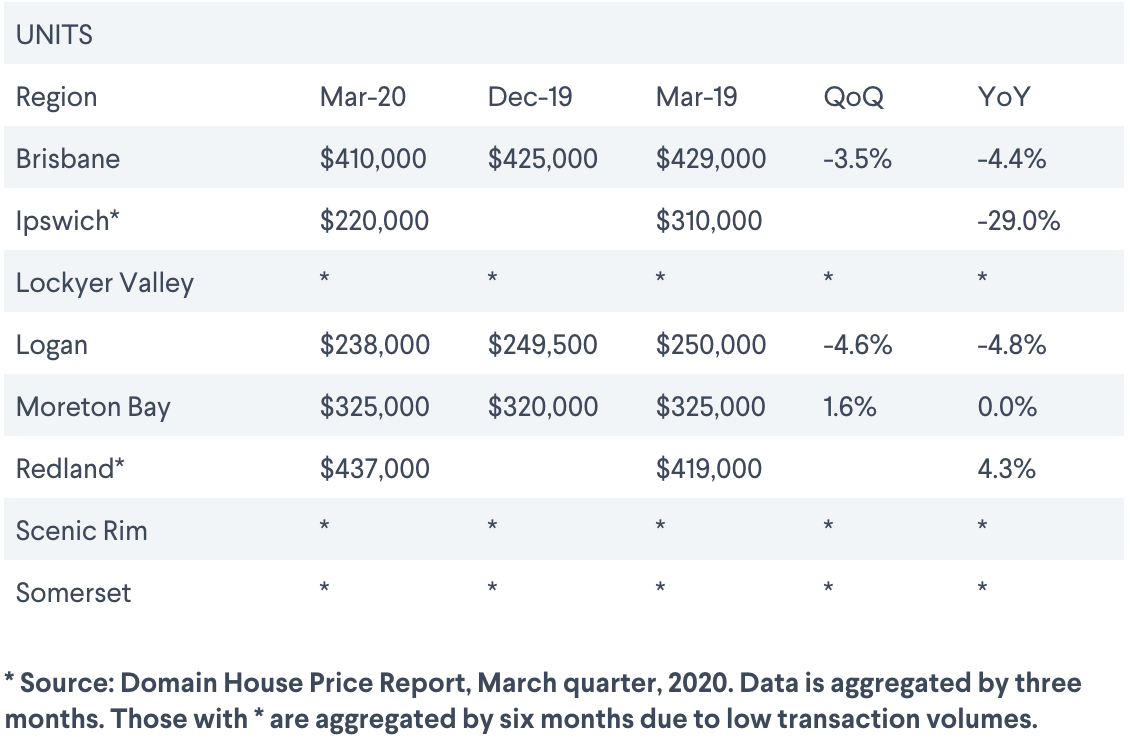 Alex Jordan of McGrath Paddington said his agency had certainly noticed that contraction in stock volume, but said the silver lining was the fundamental support for prices it fostered.
"We're not seeing forced sales and that's thanks to lower interest rates and government support … that's helped the market," he said.
"We're not getting as much traction [now] but quality properties are still getting good inquiry and, having said all that, my team did over $13 million in sales for the month of March.
"April, we expect, will be quieter – but I'm starting to see more optimism … there are still a lot of lifestyle buyers. And those who are upgrading are benefiting [in this market]."
Ray White Paddington agent Judi O'Dea said despite the stock squeeze, Brisbane's inner-city rim was continuing to perform thanks to buyer demand for family-friendly homes.
"Also, the COVID-19 situation hasn't been as dire here as Sydney, so it makes sense that our market sense is still OK," Ms O'Dea said.
"I've been doing this for 15 years so I've been through the ups and downs and while this is the hardest one I've lived through, markets do spring back and they will spring back – it will be different but people will still buy and sell."
Source: https://www.domain.com.au/news/brisbanes-house-price-growth-set-to-stall-but-not-free-fall-experts-say-950243/
Webb, S. (2020, April 22). Brisbane's house price growth set to stall but not free-fall, experts say. Retrieved from https://www.domain.com.au/news/brisbanes-house-price-growth-set-to-stall-but-not-free-fall-experts-say-950243/